Activities near La Canourgue
Outdoor and discovery activities, sports, cultural events… you will enjoy a great stay at La Canourgue… Don't hesitate to contact us to set up a taylor-made program.
Here are few ideas which we have selected for you :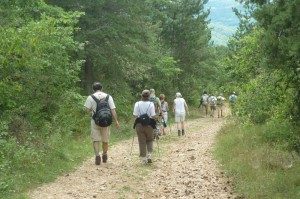 There are plenty of open spaces and hiking trails around La Canourgue : the Lot valley, the Sauveterre and Mejean causses, the Aubrac highlands… as many destinations for hiking, bicycling and even horsing. From La Canourgue, there are a couple of nice walks and tours : to Saint Frézal and its small church, to Saint Saturnin and its castle, to Roquaizou and its fall and even to Roqueprince for the most courageous… You will find at the tourism office guides for each trails…
In Lozere, there are more than 2700 km de torrents and rivers of first category, which make them one of the most attractive fishing destinations in Europe. Our hotel is a member of the network "Fishing in Lozere"… Near La Canourgue, you will find on the Lot river, a no kill trail. It is also possible to have a guided tour with professional fishermen and even to attend to some fishing lessons or training…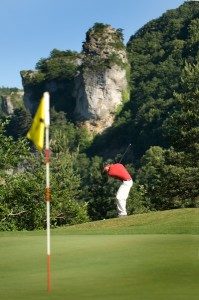 The Golf des Gorges du Tarn
You will find in La Canourgue a superb nine-hole course in the valley of the Urugne river. You will be able to perfect your swing during individual or group lessons, or enroll in training, competitions or introductions with certified professor. The Golf is nowadays famous for its 24-hour competition which takes place each year at the beginning of June.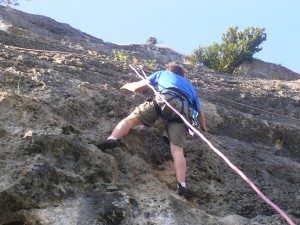 Bathing in the Tarn river or bicycling, horsing, biking, tennis, climbing, tree-climbing, archery, hunting, fishing, judo… you will find in La Canourgue perfect conditions for the sport of your choice. Our hotel is also the headquarters of La Canourgue bowls (pétanque) players' association. We also recommend you a descent of the Gorges du Tarn in canoe, kayak or even in a boat…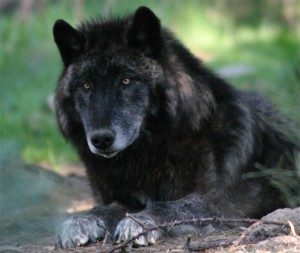 Cultural, outdoor and discovery activities
A few kilometers far from La Canourgue, you will visit the Gévaudan wolves park and learn about the Gévaudan beast legend. You will also discover the Saint Frézal chapel and the Banassac museum and its Gallo-Roman remains. It is also important to note that there is in La Canourgue a music school which offers summer courses and proposes some summer performances…